See Heaven on Earth with Fall Park City Scenic Drives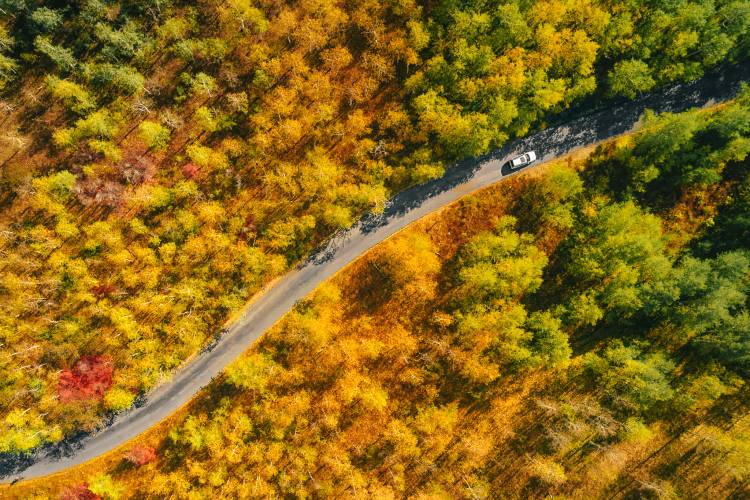 Discover Park City Scenic Drives that are Bursting with Fall Colors
When it comes to scenic drives in the Southwest US, Park City in Utah is hard to beat. And when those beautiful red and orange fall colors come around, the scenery will make you feel like you've stumbled into heaven. 
The colors of fall blanket Park City's landscape from late September through October. During this time of the year, you'll see golden aspens and deep red oaks along the roads and hills. When planning your fall vacation in Park City, check local news reports for peak fall colors predictions. If you can't make it during the peak season, then you'll still find plenty of driving scenery to enjoy at the bookends of fall.
With all that said, let strap in for the best Park City scenic fall drives.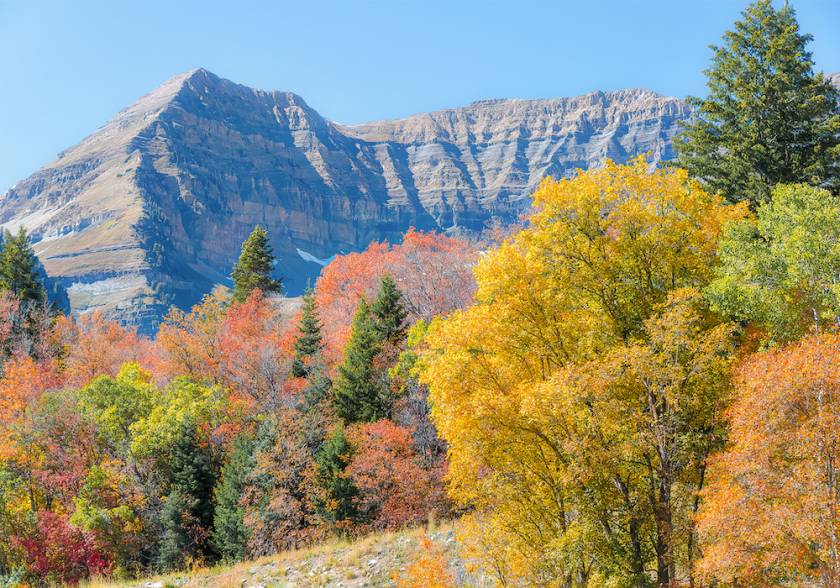 Mirror Lake Scenic Byway
The Mirror Lake Scenic Byway spans 42 miles across the Unita-Wasatch-Cache National Forest along Route 150. It begins in the town of Kamas, about 15 miles east of Park City.
Any time of year when the Mirror Lake Scenic Byway is open (some closures in winter), you'll find yourself driving with wide eyes and dropped jaws. The road snakes smoothly through the magnificent forest, passing lakes and streams, climbing mountain passes, and granting sweeping wide vistas.
In the fall, the beauty volume is turned up to 11 with those brilliant yellows, oranges and reds lighting up pockets amidst the extensive forest greens. Scenic highlights along the byway for fall colors include the titular Mirror Lake, Bald Mountain Pass, and Provo River Falls. That said, anywhere you find a turnout or parking lot will likely grant photo-worthy fall scenes.
If you do take this scenic drive, then keep in mind that you'll need to purchase a day pass to use the national forest's recreation area facilities. The road itself is free to drive on, but access to recreation areas requires that pass. There are also no gas stations or forest services, so be sure to gas up your vehicle before heading out.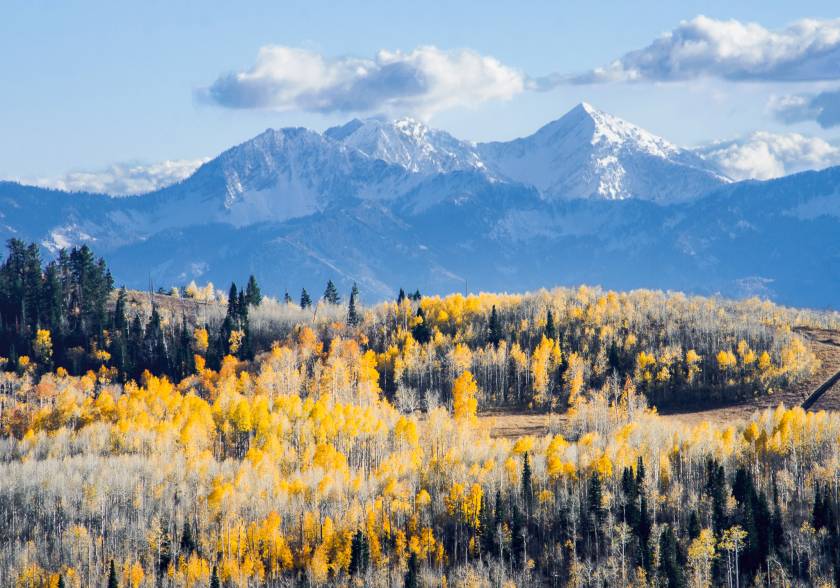 Guardsman Pass
Guardsman Pass is what connects Park City to Midway and Big Cottonwood Canyon. From main street in Park City to the pass summit is a driving distance of 15 miles.
Ask anyone in town where to find great fall scenery and Guardsman Pass will likely be the first place they suggest. The drive is renowned for grand, wide open views with vibrant autumn colors covering the surrounding valleys and peaks. At the peak of Guardsman Pass, you can get out of your car to take in extensive epic views from every direction.
Now, you could stop there and be fully content with the fall drive. Or, you could continue beyond the pass to the Big Cottonwood Canyon Scenic Byway. On this extended route, you'll drive through even more dramatic mountain landscapes as well as the canyon itself. Plus, there are plenty of stopping points for quick hikes and photo ops along the way.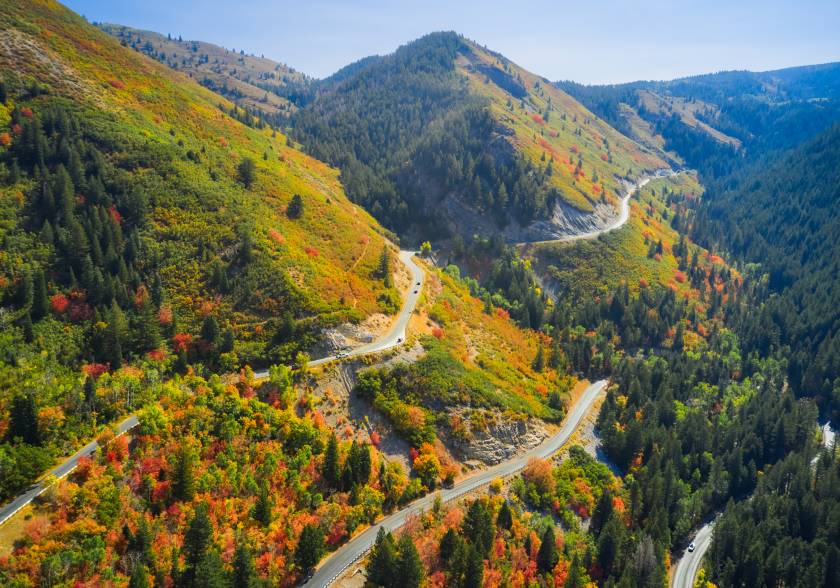 Alpine Scenic Loop
One of the most revered scenic drives in all of Utah, the Alpine Scenic Loop has it all. Towering glacier-carved peaks, magnificent alpine canyons, refreshing mountain air coursing through expansive forests, and, of course, enchanting colors throughout the fall. As far as fall scenic drives in park city go, the Alpine Scenic Loop is just about as good as it gets.
One thing to note though is that, if you drive the Alpine Scenic Loop from Park City, you need to be prepared for a full day on the road. To reach the loop from Park City, you'll need to drive for about an hour south via US-189/US-40 E, US-189 S, and UT-92 W. Then the actual route takes 2-3 hours to cover out and back depending on how frequently you stop. In total, you're looking at 3.5-4 hours of drive time across 87 miles of road (80 if you loop through Cascade Springs) if you do the Alpine Scenic Loop from Park City.
All that said though, we believe it's 100% worth it to take a day driving the loop and exploring the wonderful wilderness it goes through. From this route you'll get fantastic views of Utah's second highest peak, Mount Timpanogos, as well as other peaks in the Wasatch Mountain Range. There's an abundance of great hiking trails to stretch your legs on, and you can even explore underground at Timpanogos Cave National Monument. Finally, the autumn scenery from behind the wheel and on foot is breathtaking along almost every inch of the Alpine Scenic Loop. So, yeah. Worth it.
The last note about this loop is that you will need a day pass to drive the loop. At time of writing, a 1-3 day pass costs $6, and a 7 day pass costs $12. You can also use this same pass to access the recreation area facilities on the Mirror Lake Byway if you plan to do both drives.
And that just about wraps it up for our favorite Park City fall scenic drives you should check out. Always make sure to search current road conditions before your drive and check for seasonal road closures that begin around late October. For more things to do during your Park City vacation - including more scenic drives - head to our Park City Area Guide page.
Lastly, be sure to book your stay in the Grand Love Shack for the ultimate Park City vacation home experience. Our perfect in-town location, luxurious amenities, and abundance of interior space makes for the ideal trip to Park City any time of the year!